XM is the 5th ranked Forex Broker in 2020 for Nigerian traders. We like XM for its instant order execution, competitive spread, quick & zero fees withdrawals and wide trading instruments. Read our full XM Forex review to find out whether they are a good choice for you!
Founded in 2009, XM Forex is one of the worlds largest forex broker in Asia Africa. The company has already served more than 1.5 million traders in 196 countries from around the world.
XM offers trading in currencies, CFDs, precious metals, energies, as well as equity indices these can be traded on their MT4 MT5 trading platforms. The company claims to have executing 99.35% of transactions in less than one second, which is really good (we put that to test). Added to that, they have over 25 secure payment methods for funding withdrawals.
For this XM Forex review, we signed up with them traded on their MT4 platform. Lets find out where they shine what they can improve on.
12 Richard Verengaria Street, Araouzos Castle Court, 3rd Floor, 3042, Limassol, Cyprus
1:888 (depends on the instrument being traded)
ASIC (Australia), IFSC (Belize), CySEC (Cyprus)
CFDs on Commodities, Stocks, Forex, Equity Indices, Precious Metals, Cryptocurrencies, Energies
XM is licensed with 2 top tier regulators around the world. The following are the regulations where XM is regulated.
Australian Securities and Investments Commission (ASIC):
XM Group is regulated with ASIC in Australia. Trading Point of Financial Instruments Pty Ltd has received a license (443670) from the Australian Securities and Investment Commission in 23-December-2013.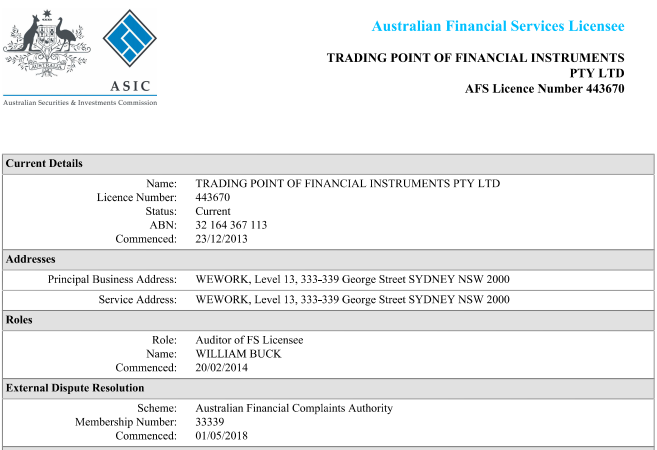 Cyprus Securities and Exchange Commission (CySec):
It is also licensed by CySEC under license number120/10as Trading Point of Financial Instruments Ltd since 05-August-2010.
International Financial Services Commission (IFSC):
In Belize, XM Global Limited is licensed under license numberIFSC/60/354/TS/18by IFSC.
XM also has negative balance protection, which means that your balance will not go into negative even if the drawdown is higher than your deposited balance.
In terms of regulations, we find XM Forex is trusted since it is regulated with major regulatory authorities in Europe, Asia and Africa.
Fees is really important factor to consider while choosing any forex broker.
XM does not have the lowest spread of all theregulated forex brokersthat we have compared till date, but their spread is still very competitive. What we like is that there is zero fees on deposits or withdrawals, plus no commission is charged for opening, closing any positions.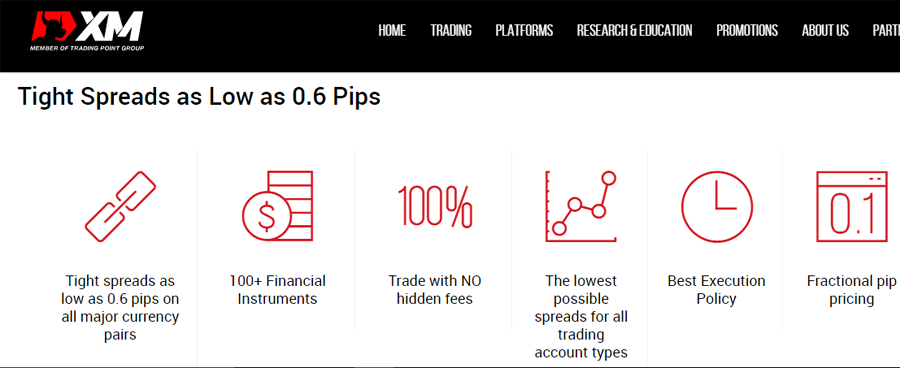 XM forexs spread is a bit higher than FXTM Hotforex, but it is still not bad. The normal spread for EUR/USD is around 1.6 pips with the Micro and Standard Accounts. But the spread is as Low as 0.6 Pips with their
There are no commission for opening or closing orders.
XM cover all transaction charges for deposits or withdrawals. You can choose any payment method (card or wallets) XM will give you 100% of your deposited or withdrawn amount.
XM offers three trading account types i.e. Micro, Standard XM Ultra Low accounts. See our below comparison on where the XM Forexs 3 Trading accounts differ.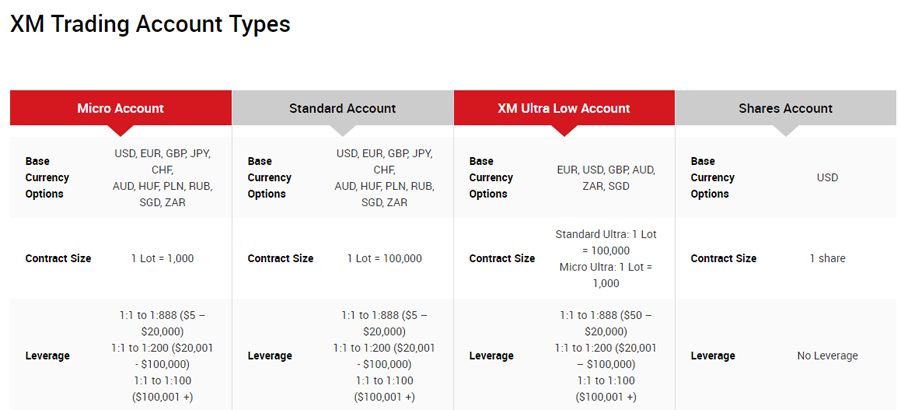 The minimum balance requirements for Micro Account is $5 you can only trade micro lots if you sign up for this account. XM offers options to choose out of 11 base currencies, but we recommend you to only select USD, EUR or GBP for Nigerian traders. The base currency is the currency in which your account balance will be maintained the withdrawals will also be in your selected currency. This account type has a spread of as low as 1 pip on major pairs.
All the features of this account type are the same as Micro Account except for the maximum lot size that you can trade. As the name suggests, you can trade Standard lots if you sign up for the Standard Accounts.
With this account you can trade Standard lots as well as Micro Lots. The spread on majors is also as low as 0.6 pips, which is quite lower than the other 2 accounts. But on the negative side you cannot avail any bonus offers from XM. Still we highly recommend you to start with this account.
There are various pros which are available for all 3 accounts. Heres what we like in XMs accounts:
In January 2015, when the Swiss Franc went erratic on the news of interest rate cute during unscheduled emergency, traders trading on CHF had huge losses negative balance in their trading accounts. The traders were then asked by their brokers to pay the balance. Negative balance protection offers you safety against your trading balance going into negative.
Another key feature with XM is the ability to open an Islamic account for Muslim traders. These accounts are swap-free i.e. without any interest or swap if you want to have an open positions overnight.
There are other benefits that are common with every XM trading account regardless of your account types. These include personal account managers, free access to market research, forex webinars,video tutorials, daily technical analysis in your inbox no commissions.
55+ Major, Minor exotic currency pairs, Stocks, Commodities Cryptocurrencies
Before starting trading with XM forex you need to open account with them. For opening account with XM Forex you need to follow the below mentioned steps:
Step 1)Open the home page of XM forex and click onOpen Accounton the top of the page.
Step 2)Now you will be redirected to Real Account Registration ½ page where you need to fill some personal details as mentioned in below screenshot.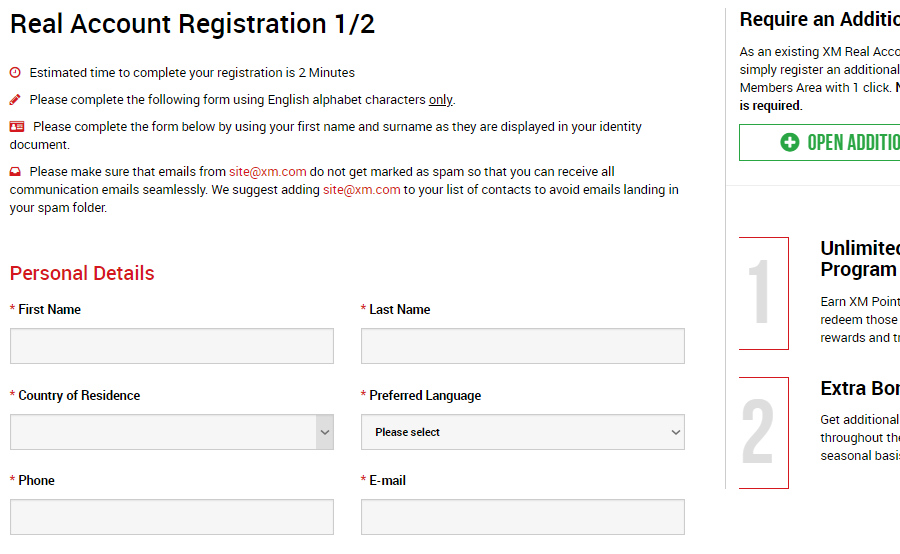 Step 3)Scroll down to the page where you need to select the following under Trading Account Details:

Step 4)After entering all the details you need to click on Proceed to Step 2 button.
Step 5)Now you are in Real Account Registration 2/2 where you need to enter your details and set the account password.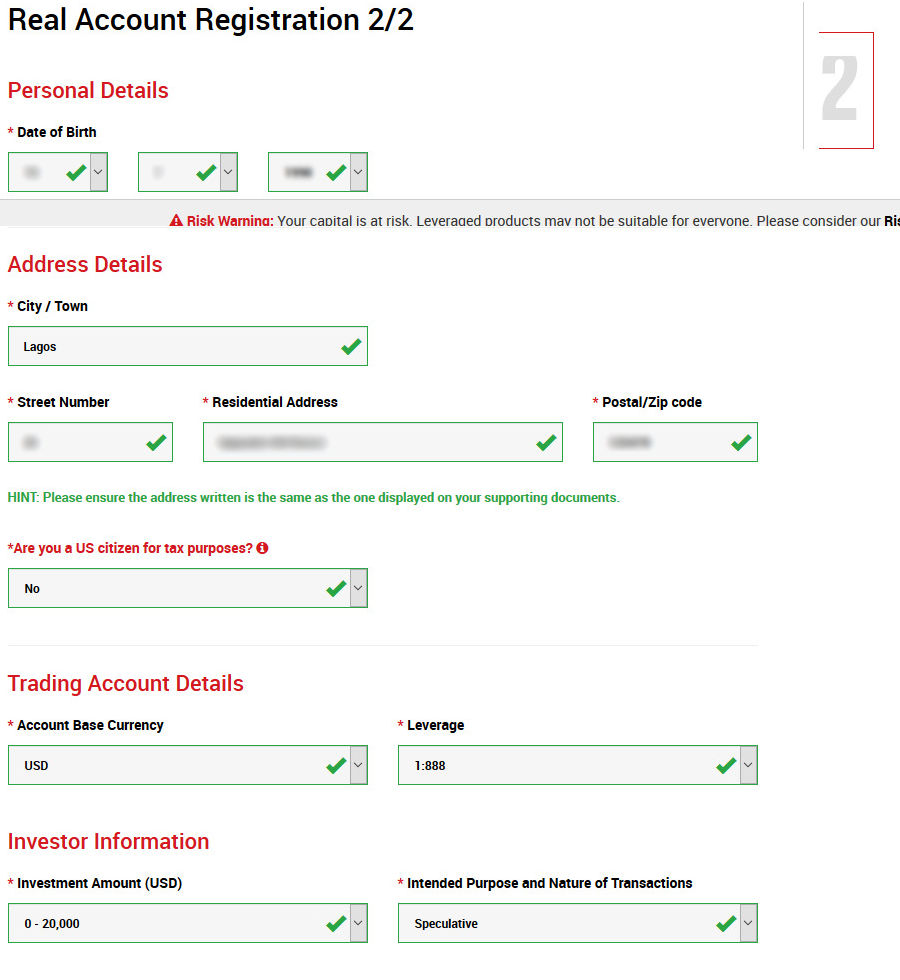 Step 6)Once done with entering your all details and settings password you need to click on OPEN A REAL ACCOUNT button.
Congratulations!Your account has been set up and you can see account opening message on the screen.
XM offers its users the ability to trade CFDs in stocks, commodities, forex, equity indices, precious metals, cryptocurrencies as well as energies.
The key highlights of these investment options are given below:
XM Forex offers competitive rates on a wide range of currencies including USD, EUR, GBP, etc. The current floating rates system is used in order to provide an updated marketplace to the users. In addition to this, forex trading can be done on platforms such as MetaTrader 5.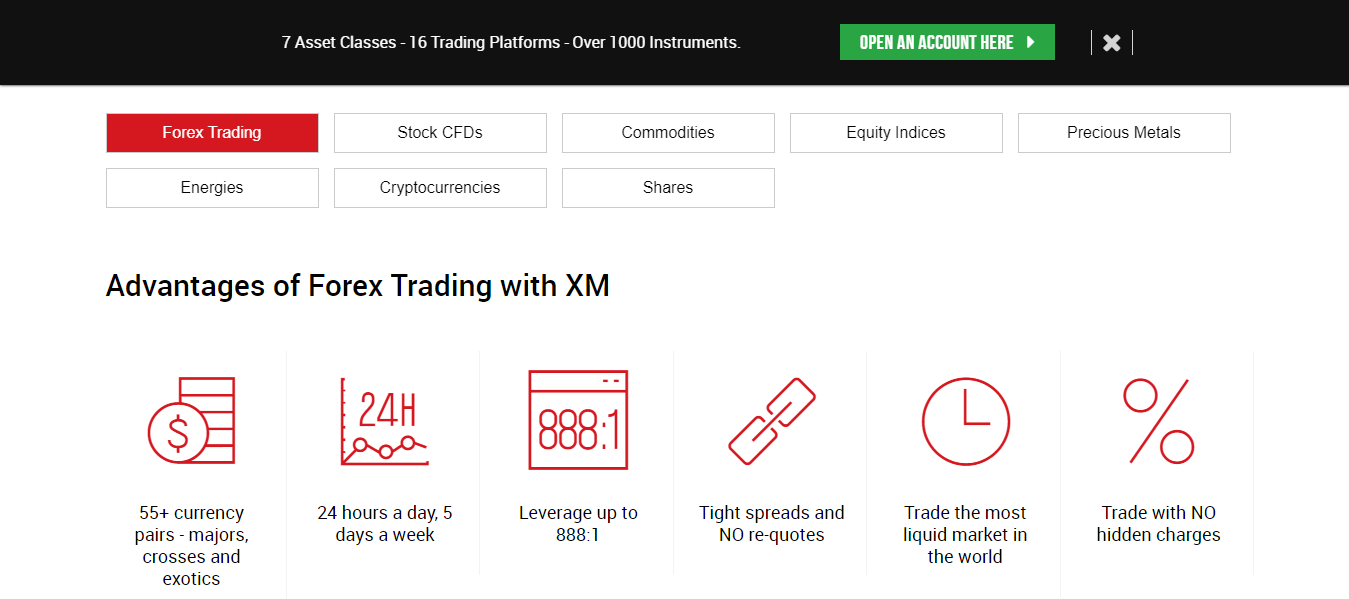 XM offers its users the ability to trade in stocks from around the world. The broker allows users direct access to global equity markets. These markets include the US, the UK, France, Germany, Netherlands, Spain, Switzerland, Belgium, and Australia, among others. The company offers competitive rates on almost all instruments.
It offers trading in a range of commodities such as cocoa, coffee, corn, cotton, etc. Such a wide range of commodities allows traders to earn profits and at the same time diversify their portfolio to lower their risks.
Users can trade on a number of equity indices such as Dow Jones (US30) and ASX200 (Australia 200). Trading in these indices allows users the ability to earn based on the general direction of the market. These indices are based on a basket of companies which are trading on that particular stock market.
Users of XM can trade in a variety of precious metals such as Gold Silver. These all are contract based tradable goods which allow users to trade on the futures exchange. The commodity market is active all around the world, although the primary corporations dominating the market are from the US and Europe.
Users who have an account on the website can also trade in a range of cryptocurrencies. These include Bitcoin, Ethereum, Litecoin, etc. Attractive bid prices are offered to users by XM. In addition to this, swap rates are based on the relevant interbank rate prevailing at the time.
Energy trading is another alternative for the users of XM. The website offers a range of energy products such as Brent Crude Oil, Natural Gas, and WTI Oil. Although this instrument is typified with high levels of volatility, there is a lot of scope to earn profits for users.
XM has multiple deposits and withdrawals methods.
There is no fees on deposits and withdrawals. The minimum deposit is $5, but there is no limit on the maximum amount on deposits.
The minimum deposit is $5. There is a zero fees on deposit and the deposit process is quick, takes less than few minutes for funding.
1) Credit/Debit Cards:You can use VISA Card, Mastercard Card or Verve Card to add funds in your account.
2) Wallets:You can also fund using 3 international wallets i.e. Webmoney, Neteller Skrill. The funding is instant with no transaction charges.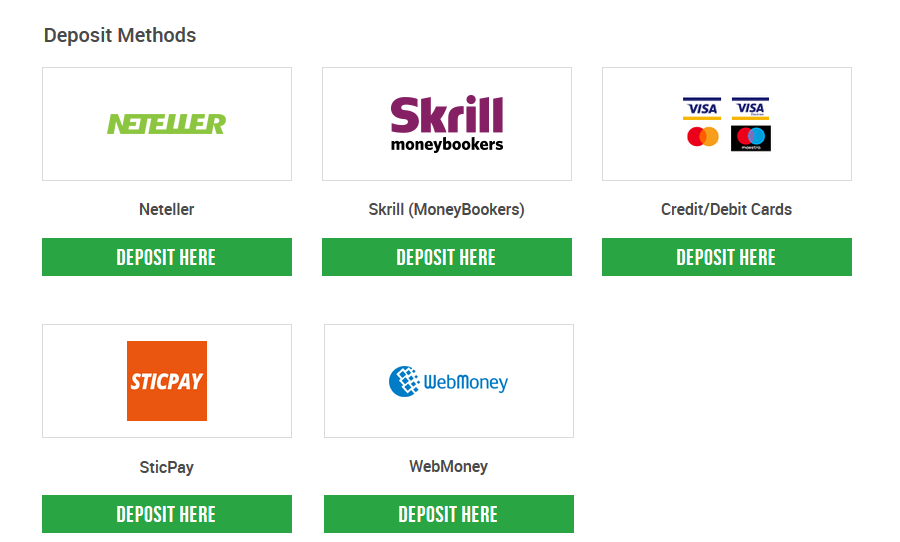 Withdrawal methods will be visible to you in your XM members area once you have validate your account. And these methods may vary according to your region.
Wire Transfer:This method directly transfers your requested withdrawal amount to your bank account without any additional charges. It can take few days to receive amount depending on your bank. Your bank may also charge you upto $20-50 for receiving the wire.
Wallets:You can withdraw your amount to your online wallets like webmoney, Skrill and neteller. There are no charges and this method is instant.
XM offers its users a range of promotional schemes as well as bonuses in order to attract them. The following bonus promotions are available at XM currently:
1. Two tier bonus:XM currently has an ongoing two-tier deposit bonus, which gives you 50% deposit bonus up to $500 and 20% bonus up to $5,000.
The bonus crediting process is instant and takes place automatically when you register an account with the website. In addition to this, this bonus promo is applicable to MetaTrader 4 as well as MetaTrader 5 platforms.
2. Free VPS:XM offers Free VPS to its client who have added balance of USD 5,000 provided they trade at-least 5 round turn standard lots per month. Or if you dont meet these requirements then you can order VPS from their client panel for $28/month. Their VPS allow traders to execute their trades in a timely and efficient manner. This makes their services accessible from anywhere, and they help users in reducing the downtime.
Email Support:The most easy way to contact XM Forex is via email. You can drop an email to their email support[at]xmglobal[dot]com for any query. They normally reply within few hours.
Chat Support:Live Chat Support is available 24 hours at XM. We have found their live support to be very quick also knowledgeable with almost no hold time.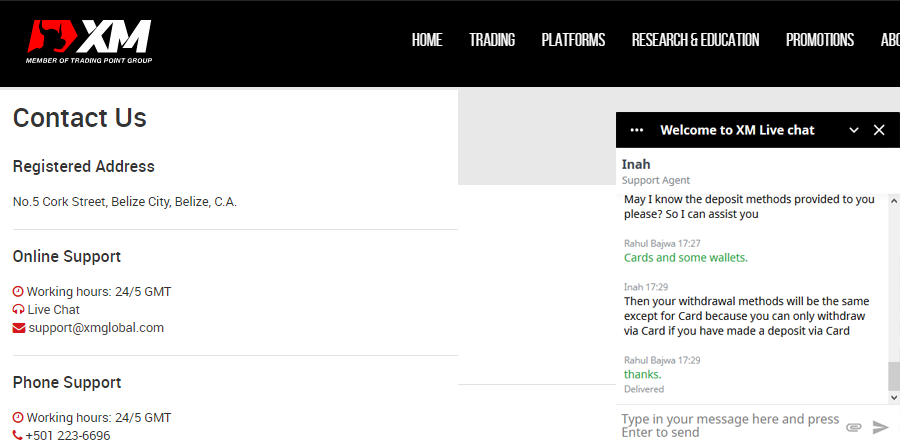 Phone Support:XM does not have any local phone number in Nigeria. But you can contact them 24/5 with their professionals on their international phone number.
Yes.To sum up, XM is one of the best brokers in the business.
The companys range of accounts with very low minimum deposit requirements, as well as its fast withdrawals are its biggest plus points.
We also like the fact that they are highly regulated with ASIC CySEC. They even have MT5 platform for mobile web. But XM, could do better by having local office or phone in Nigeria.
Instant execution, competitive spreads, good chat support, we couldnt recommend XM more..
Do you have experience with XM Forex? Please consider sharing your experience with a review below good or bad doesnt really matter as long as its helpful to other traders!
We only accept user reviews that add value to fellow Nigerian Traders. Unfortunately, not all reviews that you post with us will be published on the website. For your review to be approved, please share your detailed & honest experience with the broker either positive or negative. Thank you for helping out other traders with your valueable feedback!
Important:We dont accept any payments or kickbacks from any forex broker(s) to delete or change any reviews. We welcome Forex Brokers to reply to reviews on our website & share their side of the story to keep the process honest and fair for both sides.
Your email address will not be published.Required fields are marked*
Disclosure: We may earn a small commission if you decide to sign up through links in this review. Thanks for your support!
ForexTrading.NG is an Investment Comparison website with an aim to help Investors in Nigeria find the best forex brokers.Read More
Risk Warning:Trading leveraged products like: Forex, CFDs & Cyptocurrency is risky and you may lose your capital.Read full risk disclaimer..