Finding a reputable online broker is harder than it should be. We built BrokerNotes to provide traders with the information needed to make choosing a suitable broker easier and faster.
Finding a reputable online broker is harder than it should be. We built BrokerNotes to provide traders with the information needed to make choosing a suitable broker easier and faster.
Looking for metatrader 4 brokers (mt4)? We have compared21broker accounts (out of 147) that are suitable for you below.
BrokerNotes is the fastest way to compare 100+ of the best regulated online trading brokers, so that you can find a reputable and affordable broker faster.
While our site is free to use, some links to brokers use affiliate links which means that – at zero cost to you – we may earn a commission if you sign up for a broker from our site.
71% of retail investor accounts lose money when trading CFDs with this provider.

79% of retail investor accounts lose money when trading CFDs with this provider.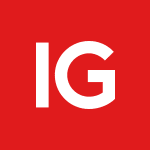 76% of retail investor accounts lose money when trading spread bets and CFDs with this provider
79% of retail investor accounts lose money when trading CFDs with this provider

71.6% of retail investors lose money when trading spread bets and CFDs with this provider.

83% of retail investor accounts lose money when trading CFDs with this provider.

79.6% of retail investor accounts lose money when trading CFDs with ETX

81.75% of retail investor accounts lose money when trading spread bets and CFDs with this provider.


69.70% of retail investors lose money when trading spread bets and CFDs with this provider.
Between 54-87% of retail CFD accounts lose money. Based on 69 brokers who display this data.
MT4 refers to theMetaTrader 4trading platform developed by MetaQuotes Software Corp, which has become the most popularsolution for retail forex tradersand brokers looking for a turnkey trading platform. Forex traders and brokers generally customise the MT4 platform according to their branding requirements and thereafter offer it to their clients to use.
MT4 serves the retail end of the forex market that trades online and includes individual and non-professional speculators; however, it still provides powerful features to allow retail investors to effectively begin forex trading and perform technical analyses. MT4 is the fourth platform in the MetaTrader series designed by MetaQuotes and has been in use since 2005. Retail traders usually consider MT4 thecurrent market standardand it is still offered by the majority of brokers today.
While MT4 was later upgraded toMT5, due to the widespread popularity of the MT4 platform, MT5 never really took off in the market, other than perhaps for traders who were unable to use hedging strategies due to regulatory environments. As a result, MetaQuotes offered a re-design of MT4 that combined many features of the new MT5 platform with the old MT4 to create a brand new platform, starting with Build 600 that was launched in 2011.
With the high demand for the MT4 platform, many online brokerages include the MT4 platform alongside their proprietary platforms for trading forex and over 80% of the 100 plus brokers reviewed by BrokerNotes offer the platform. MT4 is the most popular forex trading platform in the retail forex market today with over 750 banks and brokers currently offering access to the foreign exchange market using this platform, according toMetaQuotes.
MT4 comes with various components that enable traders to execute trades, as well as perform numerous other functions many traders will find useful. In addition to facilitating trade execution and order placement, MT4 also allows the management and monitoring of positions, the creation of reports, the purchase of plug-ins, and the performance of fundamental and technical market analyses that many traders find essential to support their decision making processes.
The following sections introduce some helpful features of MT4 and describe briefly how to use them when trading.
MT4 comes with various components that enable traders to perform a variety of functions, while also allowing the addition of numerous off-the-shelf or custom-written plug-ins that enhance its native features. For example, the platform offers:
Real time strategy testing, optimisation and backtesting.
Programming and use of expert advisors, indicators and scripts.
Excellent technical analysis and charting capabilities.
Sales of MT4 add-ons via its built-in marketplace.
Traders use MT4 to trade currencies,spot metalsindices,blue-chip stocks and certain other products that their brokers offer, although the major asset class traded using MT4 consists of themajor, minor and exotic forex currency pairs. Depending on the broker selected, around 100 currency pairs can be traded on a typical MT4 platform, in addition to some popular cryptocurrencies.
Remember that successful real money trading of any financial asset listed on the MT4 platform requires time, skill and an understanding of trading techniques. Although MT4 does not offer a full education to traders, it does offer them a comprehensive execution and technical analysis service at no additional charge because the platform is free of charge to use.
Demo trading refers to the practice of using virtual money to trade an asset and is often used by new traders to practice, or by experienced traders to test a new trading system. Downloading MT4 from the MetaQuotes website allows traders to open a demo account funded with virtual money. If you are doing this for the first time, you have to download the MT4 platform from a brokers website and once the program is downloaded, you can set up the account by filling your details.
Traders can purchase plug-ins from various vendors for MT4 that includeExpert Advisors(also known as EAs or trading robots that execute trades automatically based on a set of trading rules for appropriate market conditions), as well as custom indicators and scripts to use with MT4.
Traders can also program plug-ins using the MT4 platforms built-in programming function. By clicking the F4 button from within MT4, the MetaQuotes Language (MQL) interface opens in a new window. This feature allows a programmer to create brand new expert advisors, indicators and scripts.
Furthermore, traders can modify existing plug-ins, provided they have the appropriate permissions to do so and the EA is not locked. It is also possible to use DLL protection to lock your EAs and prevent them from being decompiled and the code modified or copied without permission.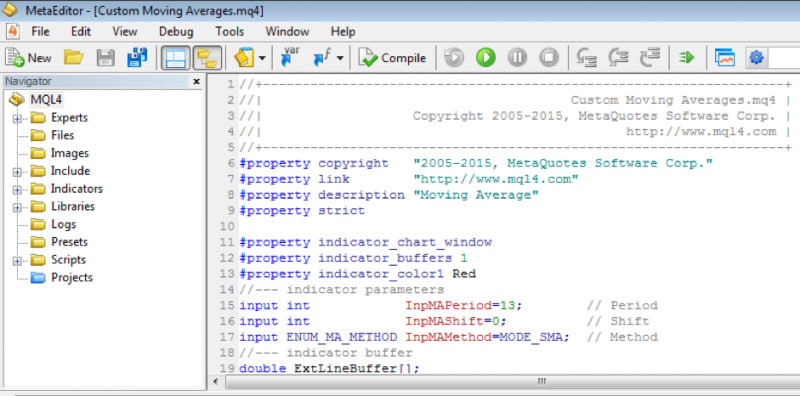 The testing and optimisation of any programmed expert advisors (trading robots) can also be done using MT4s very useful backtesting feature. Access this function by clicking Ctrl + R on a computer keyboard, or by clicking View – Strategy Tester with a mouse. Strategy testing requires historical data from the M1 time frame, which can be viewed using MT4s History Centre. It does take time to learn how to use this testing feature, so only experts who know how to test strategies can usually perform this complex function properly, and even they will need to educate themselves or be taught how to do it by someone more experienced.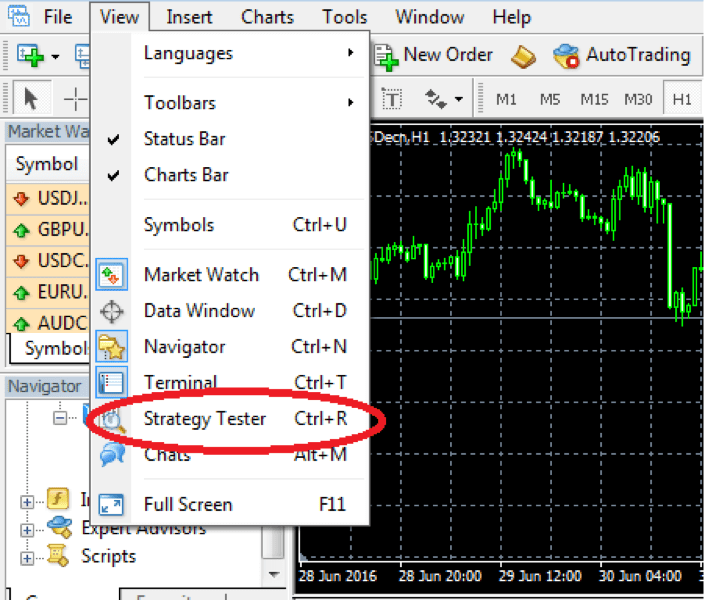 MT4 features charts for all assets traded on the platform from across a range of time frames. Traders can find built-in tools to add lines, indicators, arrows and text notes to the charts, as well as use or develop plug-ins to perform customised forms of technical analysis. MT4s charts feature three popular methods of representing prices or exchange rates:
Other methods of price representation, such as Renko and point and figure charts, can be added using external plug-ins. For example, candlestick and bar charts can be used to show the open, high, low and closing prices for the chosen time period at a glance, while multi-period candlestick patterns can be further analysed to signal possible future market moves. Charts remain an important component of trading because they enable traders to perform technical analyses.
The MQL Community was launched by MetaQuotes as a response to requests by many MT4 users to serve as a one-stop shop for all tools, indicators, scripts, expert advisors and other add-ons for the MT4 platform.
This community marketplace website integrates with the MT4 platform so that traders wishing to buy a strategy, indicator or forex robot can actually do so directly from MT4 using the Market tab in the Terminal window. Traders can purchase or even sell their add-on software for MT4 on the MQL Community website.
Note that plug-ins written for MT4 do not work with MT5 and will need to be re-written to do so. Payments for products on the MQL Community can be made from your trading account balance, as MT4 integrates directly with the MQL Community website.
Trading signals are a social trading feature of MT4 that allows a trader to copy deals performed by other traders automatically in real time. Signal providers are other traders who provide access to their forex trade signals either for free or for a fee.
These signals is a useful MT4 feature for newer traders, or those without their own trade plan, and traders can subscribe to them using the platforms Signals window. They can then read about new strategies on the MQL Community website using the CodeBase tab and can follow other traders with an existing profitable track record.
This section includes a description of the menus and windows of the MT4 trading platform.
The Main Menu bar contains various shortcut functions useful for traders. They can open a new chart, place a new order, activate or deactivate a forex robot, and select which charts to display from this bar. A trader unfamiliar with the platform can also simply mouse over each button to find out its name and function.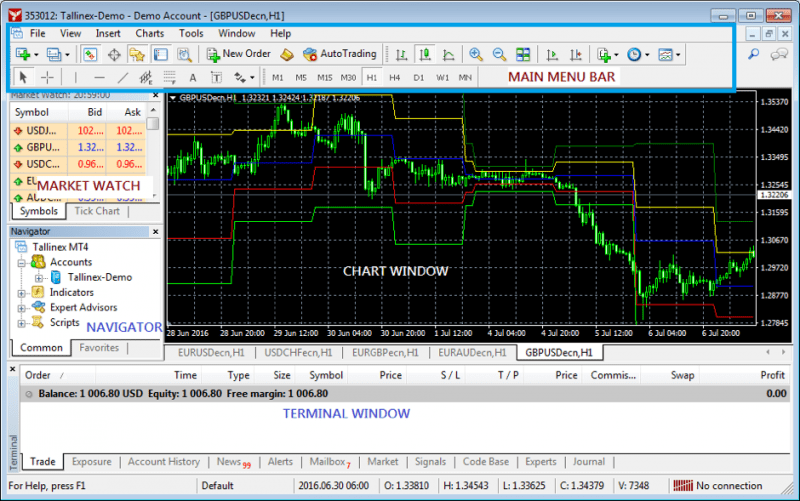 The price quote for each asset tradable on a particular version of MT4 is displayed in the Market Watch window.
The Chart Window provides a place for the display of one or more MT4 charts. Adjust the time frame or period for any chart by using the relevant button on the main menu bar above it. MT4 also includes all the most popular chart periodicities ranging from one minute to one month. Tick charts are also available, as are custom chart types like point and figure charts if you install the necessary plug-in. Each chart in the Chart Window also includes one or more indicator boxes where you can display technical indicators, like the Relative Strength Index or RSI for example, which cannot be properly shown superimposed over the price action itself.
This window includes the set of tabs that show several important MT4 displays many traders use frequently. They include the trade tab, the exposure tab, the account history tab, the news tab, the alerts tab, the mailbox tab, the market tab, the signals tab, the code base, the experts tab and the journal tab.
This provides a menu structure shortcut used to call up indicators, EAs and scripts quickly and apply them to charts. This menu also shows your broker, server and trading account numbers.
In addition to the standard desktop version, MT4 now has a web-based and mobile version available to users. The web-based versions can run directly from an Internet browser, with traders no longer needing to download and run the desktop client. All they need is the URL that connects to the server which hosts the web-based MT4 trading platform they wish to use. This enables trading from virtually anywhere that has an Internet connection without the burden of carrying around a physical computer with the desktop client installed. Browser versions also support display on smartphones and tablet devices with Internet access.
The mobile device versions designed for iOS and Android have fewer features than the desktop and web-based MT4 platforms, but they can still be used for mobile trading and account management when connected to the Internet. Available as free apps downloadable from the Google Play or Apple App Store, depending on the device, the condensed mobile versions of MT4 allow just the more basic aspects of trading, such as order placement and simple technical analysis and charting.
Many asset classes can now be traded on MT4; although the products offered by a broker will determine what assets their clients can trade using the platform. Traders can view what their broker offers for trading by hitting Ctrl + U on their keyboard when in MT4. They can also use their mouse to click on View in the top navigation bar of MT4, followed by Symbols (click View – Symbols).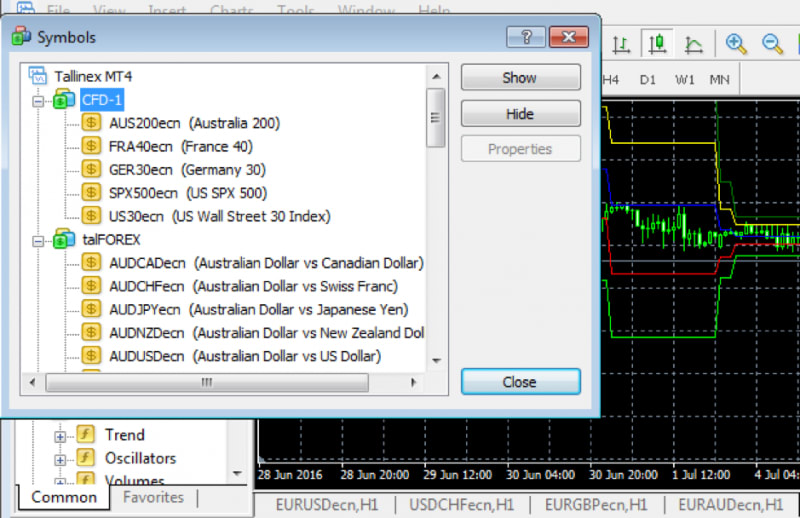 The exact list of tradable assets or instruments someone can trade via MT4 will depend entirely on those offered by their broker, but some of the assets and asset classes traders often use MT4 for can include:
Currencies traded on MT4 are usually divided into major pairs, minor pairs and exotic pairs, and the applicable dealing spreads can depend on the liquidity of the pair involved and market conditions.
A somewhat limited offering of very popular stocks can typically be traded via MT4. These are usually blue-chip stocks, such as those of Apple, Microsoft, Yahoo!, Google, Coca-Cola and Tesla.
The major stock indices that measure the performance of the national stock exchanges located in major money centres around the world can also be traded with MT4.
Cryptocurrencies: Some brokers offer an execution service via MT4 in themajor cryptocurrencieslikeBitcoinEthereumRippleLitecoinand EOS, in addition to derived cryptocurrencies like Bitcoin Gold andBitcoin Cash. However, please be aware that these relatively new markets can be illiquid and show rapid price movements that may be unsuitable for beginners.
Commodities: Most brokers offer access to a set of popular tradable commodities to their clients via MT4, although some brokers provide wider access to the commodity market, especially if they offer CFDs or Contracts for Difference.
The most common commodities offered by online brokers include precious metals like gold,silverandplatinumenergy productslike WTI and Brent crude oil, natural gas, heating oil and gasoline; and agricultural products like corn, sugar, wheat, coffee, cocoa, soybeans and cotton.
Fixed Income Securities:Some online brokers offer a small range of fixed income instruments for their clients to trade via MT4 using lower leverage ratios. In most cases, these are limited to government bonds issued by the United States, Japan and major European countries.
In addition to all of the features of MT4, the programs functionality can be further enhanced by add-ons called plug-ins. MetaQuotes, third-party developers or users can create plug-ins that integrate into the MT4 platform to expand or modify the basic functionality of the MT4 trading platform.
Plug-ins allow the user to automate and improve MT4s operations depending on the users business requirements and trading needs. Plug-ins can also establish connections between different applications, allowing further integration possibilities. If a trader cannot find an existing plug-in to do what they want, then they can either code their own or hire someone to do it for them.
MetaQuotes and its extensive online community have already developed a substantial number of plug-ins for use with the MT4 platform, thereby enabling a trader to take advantage of this enhanced functionality right away. A particularly popular type of plug-in is called an EA or Expert Advisor that consists of a program that can instruct the platform to automatically execute transactions based on a set of programmed rules and observed market conditions.
Other plug-ins might allow for the display and parametrisation of custom technical indicators. They can also provide trading signal alerts to a user via a popup box, or a marker on a chart, for those watching on screens. Plug-ins can also give signals via email, text messages and push notifications on mobile devices for those away from their desks.
Scripts consist of another popular type of plug-in that allows traders to automate certain common actions they wish to perform quickly and repetitively when using MT4. For example, a trader could write a script to delete all displayed chart objects to quickly clear a chart for a new form of analysis.
Plug-ins offered by MetaQuotes include software for people purchasing an MT4 licence to start a brokerage with. Some examples of this type of software include:
This type of plug-in connects the MT4 trading server to liquidity providers. It remains one of the most important plug-ins for any dealer offering MT4 to their clients.
These plug-ins would suit those interested in Multi-Account Multi-Management and Percentage Allocation Money Management. Since MT4 does not include a function for managed accounts, many brokers find these plug-ins useful if they wish to let account holders allow other parties to manage their accounts.
If the dealer plans on taking on risk with their clientele, this plug-in allows the dealer to manage their risk.
Those interested in running a brokerage need to keep in mind that using one or more plug-ins at the same time could cause unexpected conflicts with the MT4 server. Testing any new plug-in to be used together with existing plug-ins in a safe environment before committing to purchase the plug-in and using it for live trading seems sensible, especially for those purchasing an MT4 licence. This can be done by cloning the MT4 server onto another dedicated server and installing the plug-in there. Once installed, the plug-in could be tested over a week to determine whether any conflicts exist.
If they do not have a Windows-based computer, traders can instead install a version of MT4 or MT5 on computers running either Mac OS or Linux operating systems using a version of the free open-source software called Wine created for both Mac and Linux users.
To install MT4 on a Mac computer, Wines developers recommend using another free application known as Play on Mac that is based on Wine. Traders can use this additional software to easily install Windows applications like MetaTrader 4 onto a Mac. MetaQuotes MetaTrader 4 website gives very detailed instructions for the installation of the MT4 software using Play on Mac.
In addition to the ability to install MT4 on Macs, MT4 can also be installed on Linux based machines. Traders can use another version of the Wine software to get their Linux operating system computer to run applications developed for Microsoft Windows like MT4.
While MT4 stands out as the most popular and widely used trading platform, a number of other platforms are starting to become popular as alternatives to MT4/5. Listed below are the three of the most commonly used platforms after MT4 and MT5:
NT is an online trading platform that competes with MT4/5. The NT terminal can be used to trade in the forex market, as well as to trade futures, forwards, options, stocks and CFDs. Advantages of the NT platform include an adjustable interface and multifunctional language support, which is a valuable feature for developers of integrated applications. The NT platform has two versions: NT Lite, which is non-automated and free, and the programmable NT Pro platform that features complete automation functionality and costs approximately $50 USD per month. Some brokers offer the NT Pro platform free of charge to their clientele.
This relatively new trading platform combines a social network with a powerful technical analysis engine and targets private traders. The platform makes use of three localisation languages, with considerable functionality for the free version. TradingView can be used as a stand-alone platform for technical analysis and has real-time data on currencies, stocks and indices, although the most compelling feature of TradingView consists of its social media and trading capabilities. The platform allows users to interact and exchange ideas much like a social network. In addition, traders can copy the trades of others, which gives less savvy traders a chance to diversify their risk and take advantage of another traders greater experience. More practised traders can allow other traders to copy their trades, which can generate extra income for them.
This platform copies the signals of traders operating in live accounts through different brokers around the world. The platform features ZuluScript, which acts as an environment for developing an automation system that can be used to copy signals and/or trades. It can also allow other traders to copy signals for a fixed fee.
In general, the MT4 platforms advantages outweigh its disadvantages, although it does have some less favourable characteristics. A rundown of some of the key pros and cons of the popular platform appears below:
Extremely user-friendly with an intuitive and easy to understand interface ideal for newer traders.
Most forex and CFD brokers offer the MT4 platform to their clientele, which makes changing brokers relatively painless since the same platform would be used instead of having to learn how to trade using a new trading platform.
Supports a wide range of different languages.
Can operate as software, which avoids browser-based errors and bugs, unless a trader uses the Web-based version.
Available for various types of computing devices including PCs, tablets, smartphones, iPod Touches and laptops. Although native to Windows, the software can also run on Mac and Linux systems.
The possibility of one-click trading, which facilitates scalping and other short-term trading strategies.
Offers automation possibilities by running EAs, as well as a large support community familiar with MT4s programming language MQL4.
Excellent technical analysis charting capabilities and indicator options.
A useful backtesting function that allows traders to test their strategies with historical data.
Its backtesting function does not accesshigh-qualitytick historical data, nor does it use bid or offer pricing.
MT4 does not have access to real tick data and only has access to minute bar data at best, which could generate false price ticks by interpolating data for the smallest available time frame.
MT4 uses a different programming language than that used in the MT5 trading platform, so plug-ins are not portable to the newer platform.
New brokers for Forex or CFDs launched in 2018 cannot offer the MetaTrader 4 platform because MetaQuotes no longer issues MT4 licences but now issues MT5 licences to brokers instead.
MT4 allows the use of repainting indicators that can mislead people into thinking they perform better than they do in real time.
With MetaQuotes currently in the process of replacing MT4 with the still relatively new MT5 platform, any potential bugs still in the MT5 code could become a problem for MT4 traders if they are forced to switch platforms.
While both the MT4 and MT5 platforms have the same origin and developer, they have different coding and incorporate functional variances that might significantly impact a traders profitability. While MT4 has years of community programming support behind it, MT5 has some nice advanced features that may suit certain traders.
The table below summarises some of the more prominent differences between the two platforms at a glance.
Harder to use, but better for advanced traders.
No innate restrictions on trading methods or strategies (like scalping for example), unless modified by a broker. Hedging is allowed.
No innate restrictions on trading strategies, and hedging can be allowed or not, depending on the account. Accounts without hedging use the FIFO rule.
30 built-in indicators plus thousands of custom indicators and EAs. Lacks Market Depth indicator.
38 built-in indicators plus 22 additional analytical objects and 46 graphical objects. Has Market Depth indicator.
These differences are described further and expanded upon in the bullet points below:
MT4 offers users only nine time frames for charts. This can be a disadvantage for traders wanting a broader choice. MT5 offers users 21 timeframes that range from one minute to one month, including 1 hour, 2 hour, 3 hour, 4 hour, 6 hour, 8 hour and 12 hour charts.
MT4 has a limit of 128 charts that can be opened simultaneously. This can be a disadvantage for traders who wish to analyse and trade multiple currency pairs and other assets. In contrast, MT5 lets the user open an unlimited number of charts at the same time.
MT4s interface seems intuitive and easy to use compared to MT5, which requires more experience to operate. Nevertheless, the one click trading feature and drag and drop functionality comes only with the 500 build version of MT4. MT5s interface has some slight differences that include the addition of a search box and a Details tab in the Market Watch window.
MT4 has no restrictions on any trading method or strategies. Nevertheless, certain brokers who have their own modified versions of MT4 can include certain restrictions, like a prohibition on scalping, for example. While MT4 generally supports the practice of hedging, MT5 allows the use of position accounting systems that either do or do not include hedging on an account dependent basis. MT5 also implements the FIFO (First In First Out) rule in accounts without hedging. This means that if a trader has multiple positions in the same asset, their trades get liquidated in the order they were established in.
MT4 does not have an economic calendar for fundamental analysis like MT5, although both include a news feed. With respect to technical analysis, MT4 comes with 30 inbuilt pre-installed technical indicators that include Bollinger Bands, Fibonacci Retracement levels, the RSI and Moving Averages to name only a few, although it notably lacks the useful Market Depth indicator MT5 includes. MT4 also has thousands of free and paid custom indicators, trade signal generators and expert advisors built by third parties over the years of its existence. MT5 has 38 inbuilt indicators with an additional 22 analytical objects and 46 graphical objects. Unfortunately, since MT4 plug-ins cannot run on MT5, all of the wealth of software developed by third parties for MT4 cannot be used on MT5.
Most online brokers support and offer their services via the MT4 trading platform. On the other hand, MT5 is currently supported by considerably fewer brokers compared to the large number offering MT4.
EAs or Expert Advisors consist of programmed plug-ins that give a trader the possibility of automating their trading strategy by creating a trading programme, or robot, which operates automatically based on market conditions and the status of technical indicators supported by the trading platform. EAs can be programmed or obtained from a third party for a wide variety of trading styles, with MT4s officialwebsitestating that over 1,700 trading robots and 2,100 technical indicators are now available in their community marketplace. The price of EAs range from free of charge to thousands of U.S. dollars for the more successful ones, although traders can rent some of the more expensive EAs if they cannot afford to purchase.
The MT4 trading platform can be downloaded directly from MetaTraderhere; however, virtually every online broker that allows clients to use the platform also makes it available for download on their website in a branded version.
The MT4 platform can be downloaded free of charge from the MetaTrader 4 websitehereand from online brokers that offer clients the ability to use the platform.
Scalping, an intraday trading strategy that takes advantage of small moves in the market, can be implemented quite successfully on the MT4 trading platform due to its fast one click trading feature. However, the use of this strategy may not be allowed by an online broker that has an explicit prohibition on it, or a broker might impose a required holding ti