NEVER MISS A TRADE! Get live signal Alerts directly to your phone
.png aria-hidden=true /
class=hover text-black
0 class=m-r-xs pull-left ng-bind-html=signal.feed.list[0].title cut:true:45:…html
data-type=signal style=font-size: 1.5rem; padding: 0 5 aria-hidden=true
ng-bind-html=item.title html
class=fxml-sig-chart-tile
class=fa fa-angle-up fa-3x cursor-pointer text-green absolute style=left: 20 bottom: 10 aria-hidden=true
data-type=signal style=font-size: 1.5rem; aria-hidden=true
The Confidence Is Expected to Remain the Same at -7 Points
Financial confidence is a leading indicator of consumer spending, which accounts for a majority of o…Full Article
Reading Listdata-content=Register now to be able to add articles to your reading list.REGISTERAlready have an account?Sign inaria-hidden=true>
Tuesday, April 23, 2019
Reading Listdata-content=Register now to be able to add articles to your reading list.REGISTERAlready have an account?Sign inaria-hidden=true>
Tuesday, April 23, 2019
The European Commission has ruled out any possibility of revisiting last years withdrawal treaty negotiated with Britain.Opened on Tuesday, April 23, 2019 at 12:24:54 pm
data-type=signal style=font-size: 1.5rem; aria-hidden=true>
data-type=signal style=font-size: 1.5rem; aria-hidden=true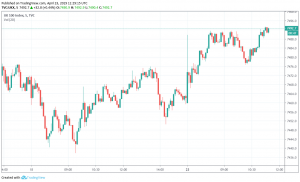 US Sanctions on Iranian Oil Help FTSE 100 Surge to Six-Month High
Reading Listdata-content=Register now to be able to add articles to your reading list.REGISTERAlready have an account?Sign inaria-hidden=true>
Tuesday, April 23, 2019
The US threat to stop all sanction waivers to Iranian oil imports pushed oil stocks higher, causing the FTSE 100 to rise 0.4%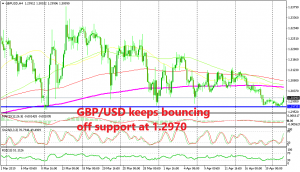 GBP/USD Bounces Off the Support Below 1.30 Again
Reading Listdata-content=Register now to be able to add articles to your reading list.REGISTERAlready have an account?Sign inaria-hidden=true>
Tuesday, April 23, 2019
GBP/USD has been bearish for more than a month, but it cant break below the support at 1.2970
Crude Oil Breaks Out of Range, US-Iran Tensions in Highlights
Reading Listdata-content=Register now to be able to add articles to your reading list.REGISTERAlready have an account?Sign inaria-hidden=true>
Tuesday, April 23, 2019
Earlier during the Asian session, the crude oil prices scored their highest since November after the US declared to end all waivers on….
Forex signalsare, essentially, trade ideas indicating the market trends in real time. Trading signals are used by novice and professional traders alike. Most forex signals include the position type (buy or sell) as well as the take profit and stop loss levels. FX Leaders provides signals on forex pairs, commodities, indices, and cryptocurrencies.
Follow the live signalsand manually copy them to your own trading platform by opening a buy/sell position according to the data of the active signal.
FX Leaders forex signals are essentially trade ideas. The trader receives the position (buy/sell) posted on the forex signals page together with the stop loss (SL) and take profit (TP) levels. All traders need to do is to copy the trade at the market price when the signal goes live.
This is what an Active (or live) signal and a Get Ready signal looks like:
In addition to Active (live) signals, FX Leaders uses Get ready signals. This type of signal is published to let traders know when the FX Leaders analyst team sees a favorable technical chart setup or fundamental event, and are about to open a live signal.
As apremium member, you will receive email messages and a notifications on your mobile phone so you never miss a trade. Additionally, you will instantly receive the full signal details which includes the time the signal was issued, entry price, the instrument to trade (forex pair/commodity/index/cryptocurrency), type of signal (buy/sell), adn the take profit and stop loss levels.
There are all sorts of forex signal services available. Many individual forex traders provide signals through the MT4/MT5 platforms or through their brokers as trade copiers, such as ZuluTrade or eToro. At FX Leaders, we have a team of professional traders and analysts who generate new forex signals every day. We are proud of our services and performance and are constantly working to improve them.
In 2017/2018, FX Leaders introduced new trading signals on commodities, indices, and cryptocurrencies, allowing traders to diversify their trading portfolios. If you have been following FX Leaders, you may have noticed the connection between ourlive market updatesand our forex signals. Besides issuing signals, we try to accompany the signals with the strategies and reasons behind them.
You dont have to follow all our signals by the book. Forex signals are trade ideas, so its best to consider them as such and whenever possible to increase your profits. Stop loss and take profit levels are given in order to frame the range in which the market is expected to move based on a specific trend. If your trading strategy points to further gains, dont limit your potential… extend your take profit (TP) target or remove it all together to maximize profits.
Our signals are managed manually since they are created by our experienced analysts who apply different manual trading strategies to the markets. This is opposed to other signal providers whosesignals are generated automatically. There are pros and cons for both services which we explain in our Forex Signals Auto vs. Manual article. We prefer manual signals as we see more value in human intelligence than in artificial intelligence.
FX Leaders expert analysts employ both short and long-term trading analysis and strategies. Due to this, different types of traders can use FX Leaders trading signals as the signals can match different trading styles, such as technical analysis trading, fundamental analysis trading, day trading, and swing trading.
Want to learn how to best use FX Leaders free Forex signals?Read the Full Forex Signals Guide
Want to get buy/sell signals notifications in real-time? Try ourPremium Forex Signals Service
Great work guys and I can confirm that I rode at least 300 of those 800 pips of profits which your trading signals spotted over the last 2 days. It was great for my account. I just need to know how on earth you guys manage it?
Ive traded with your free Forex signals for almost a month now and so far so good. It is the first time that i copy forex signals, and honestly, it is so much better than trading by myself. I am actually enjoying it. I could not believe that someone was giving away free signals that actually worked! I thought there had to be a catch, but to my amazement they do work and for the first time I will more than likely open up a real account because of you. Keep up the good work
I came across and started following your trading signals. I could not believe that such great performing signals were totally free! I am thankful for this service & support. Services as yours are really helpful for newbies like me. Highly recommended!
Looks like there are some great minds behind your fx signals watching closly those candlesticks, always getting the job done. thank you!
Great work guys, I am going to get a premium account… Thanks for the best signal.
data-type=calendar aria-hidden=true style=font-size: 1.5rem;
data-type=calendar aria-hidden=true style=font-size: 1.5rem;
data-type=calendar aria-hidden=true style=font-size: 1.5rem;
Track signals, important economic events and save articles in your watchlist
TRADE AGAINReal-time signal notifications whenever
a signal is opened, closed or updated.Immediate alerts to your email and mobile phone.Entry price level for every signal.Go PremiumFrequently Asked QuestionsIs FX Leaders free to use?
Absolutely! All services are free, so you to take advantage of the opportunities that Forex trading offers.
and start trading by following our forex signals and trade strategies!
FX Leaders is an information station for forex, commodities, indices and cryptocurrency traders. Providing you with the best strategies and trading opportunities whilst equipping you with the tools you need to be successful. Get
, daily market insights, tips, the best educational resources, social trading and much more…
Risk Warning: Trading forex, cryptocurrencies, indices, and commodities are potentially high risk and may not be suitable for all investors. The high level of leverage can work both for and against traders. Before any investment in forex, cryptocurrencies, indices, and commodities you need to carefully consider your targets, previous experience, and risk level. Trading may result in the loss of your money, therefore, you should not invest capital that you cannot afford to lose.
[emailprotected]; Address: 1 Kaf Gimel Yordei HaSira, Tel Aviv-Yafo, Israel 6350801
Copyright 2012-2019 by Smart Financial Traffic LTD
Enter your email address and a link to reset your password will be sent to your inbox.The email does not exist in out system. Please try again or goAn email with the reset link to your password has been sent.